Multi-tier racks and flooring systems
Warehouse mezzanine racks allows you to organize an efficient storage system using the entire available room height. In addition, the use of multi-tier racks makes it possible to organize the administration area, assembly points and product distribution points at different levels of the warehouse.
Warehouse mezzanine systems – a platform structure of 2-4 tiers with flooring and a flight of stairs. The flooring is made of grid flooring or OSB sheets. You can read about the benefits of buying such equipment by clicking here.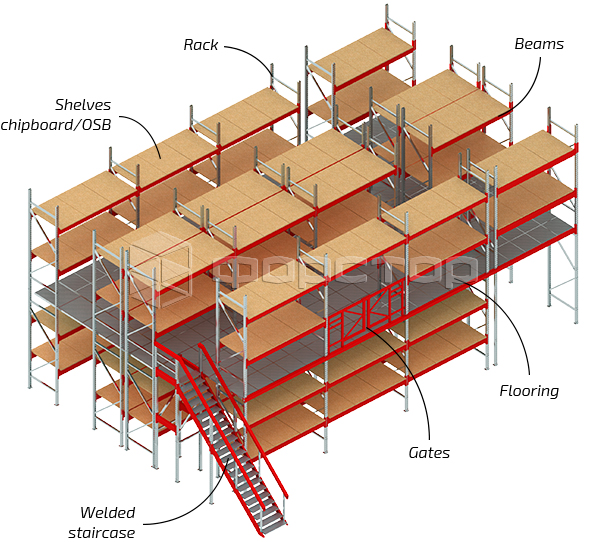 Specifications
Frame height
6000— 15 000 mm
Frame capacity
2,5 / 5 / 8 / 12 / 16 tons
Number of tiers
2 — 4
Storage layer load
up to 4000 kg
Maximum load per 1m²
up to 1000 kg
Flooring material
— grid flooring
— chipboard / OSB sheets
The construction uses standard racks of pallet system or racks of the Master series, which makes the warehouse mezzanine stable and reliable.
Tiered racks of Ukrainian production
Сhoose your mezzanine system
Connect with manager

Andriy Galinsky