Storage shelves and shelving systems
We produce two main types of shelf racks for light and medium loads with a bearing capacity of up to 400 kg per shelf. Our multi-purpose racks have a boltless design for easy assembling.

Forstor shelving systems are cost-effective and bear high static loads. We produce shelving racks in many configurations with metal and chipboard shelves.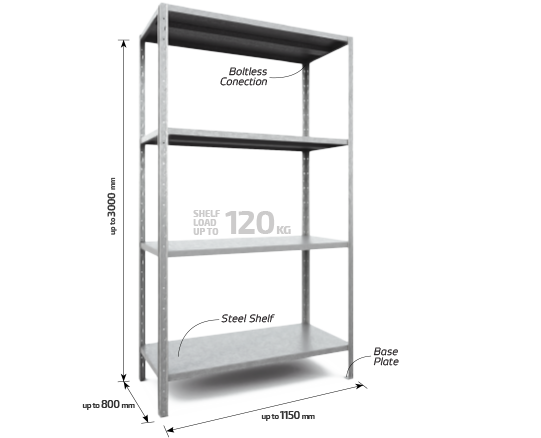 Shelves Start
Rack height
mm
up to 3000/(any size on request)
Shelf Length
mm
to 1150/(any size on order)
Shelf Depth
mm
up to 800/(any size on request)
Shelf Load
kg
to 120
Shelf Material
Metal
Corrosion protection

— powder coating

— galvanized steel
Forstor racks main features — reliability and simple design. The assembly process is quite simple and does not require a special tool or skills.
Shelving Master
Rack Height
mm
up to 4000/(on order)
Available shelf length
mm
up to 2500/(on order)
Shelf Depth
mm
up to 1500/(on order)
Shelf load capacity
kg
to 400
Shelf Material
Metal/Particleboard
Corrosion protection

— powder polymer coating

— galvanized version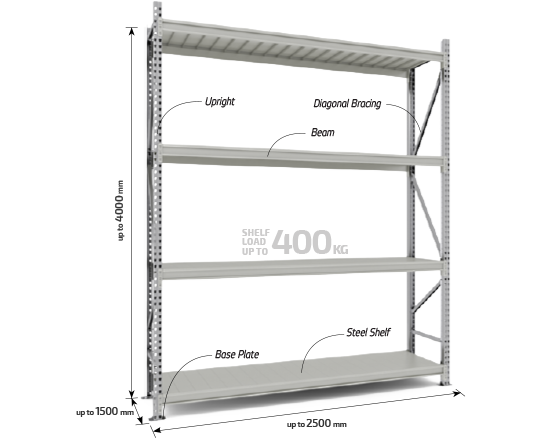 Ukrainian shelving racks
Connect with manager

Alexey Dzyugevich