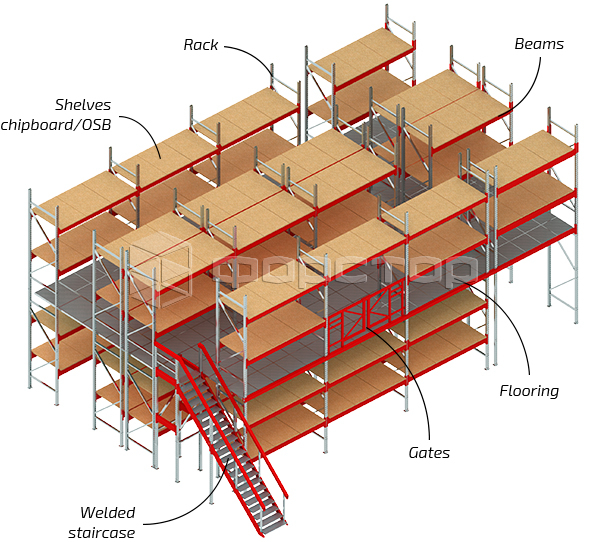 Benefits of the rack supported mezzanine:
Efficient use of warehouse height;
Organization of independent storage areas;
Various modifications;
Different types of flooring are available;
Easy installation;
Easy disassembling and expanding of storage system.
Specifications
Available height
mm
up to 15 000
Frame capacity
tons
5 / 8 / 12 / 16
Available section length
mm
up to 3600 (in 100 increments)
Available frame depth
mm
up to 2000 (in 50 increments)
Storage level load
kg
from 4000
Type of shelves and floors
mm
Chipboard, MDF, OSB, metal
Maximum load per 1m²
kg
up to 1000
Corrosion protection

.

— powder-polymer coating enamel
— galvanized execution of elements
Mezzanine design features
The design of the warehouse mezzanine is based on a system of shelving or pallet racks. By using various braces, support beams, floors and other elements, such tiered racks are combined into a complex multi-tiered storage system.